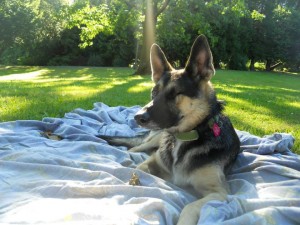 Last October, my friend Nicole, who lives in Portland, told me about this beautiful dog she was adopting. Teagan, a German Shepherd, was found on the roadside in Mississippi. She'd been starved down to almost nothing, shot, and left for dead. One arm was caught up in her collar; and, because a bullet went through her eye, she now has a permanent wink.
Thanks to the Rocky Ridge Refuge in Arkansas, Teagan was rescued and slowly nursed back to health. Her care required several surgeries and treatment for a major infection throughout her whole body, possibly caused by bullet fragments still in her body. Nine months after my conversation with Nicole, at the end of June, Teagan finally was well enough to make the trip from Arkansas to Oregon… home.
I joined Teagan's Fan page on Facebook immediately, and I'm looking forward to meeting her in a couple of months when I'm in Portland again.
I'm especially moved by Teagan's story because it is an amazing example of the resiliency of animals and humans alike. A year ago, Nicole lost her beloved German Shepherd, Alec. Theirs is a true love story: when Alec became paralyzed and wheelchair bound,  Nicole and Alec worked together to get him walking again. (To read more about Nicole and Alec's journey together and his therapy, you can visit Nicole's blog.) In the last year of his life, Alec walked without his wheels. Alec's passing — and so soon after this achievement — has been a devastating loss for Nicole. I know she will carry Alec with her everyday, just as I still carry Pushkin. But life gives us new opportunities to open our hearts and to love. Teagan and Nicole have opened their hearts to each other in a way that shows courage, compassion, healing, and hope.
I had the privilege of meeting Alec, and I have the privilege of having Nicole as a friend in this lifetime. I know that, now, Alec is close by and watching over Nicole and Teagan. And he's welcoming Teagan, who traveled all the way from Mississippi to be part of their family.
The only thing better than a story with a happy ending is one with a happy beginning. So much to look forward to, as they just start down the road together. Peace and love to Teagan and Nicole!
About State Cruelty Laws
Teagan's abuser was never found. Had he or she been arrested, the charges would have been based on Mississippi's animal cruelty statutes. In Mississippi, the penalties for animal cruelty: "fined not less than ten dollars nor more than One Hundred Dollars, or shall be imprisoned in the county jail not less than ten days or more than one hundred days or both" (97-41-13). Aggravated cruelty charges bring slightly stiffer penalties: if a first offense, the person is still found guilty of a misdemeanor, "fined not more than Two Thousand Five Hundred Dollars, or imprisoned for not more than six months, or both"; if a second or subsequent offense, the aggravated cruelty is a felony offense, with a fine of "not more than Five Thousand Dollars and imprisoned for not less than one year nor more than five years." (97-41-16). I suggest everyone learns about the animal cruelty laws in his/her own state and then urges state representatives to make these laws stronger. Penalties need to be greater, and the laws need to be enforced.
Furthermore, an animal abuser registry would help ensure that abusers are prohibited from owning animals again in the future. Without a registry, it is too easy for repeating abusers to show up at local shelters and adopt another animal. In October 2010, Suffolk County in New York became the first to create such a registry. California and Tennessee also have made efforts, though a bill has yet to pass in either state. Especially because violence to animals also often coincides with other crimes, support for such measures extends beyond the support of animal advocates. Animal cruelty needs to be taken seriously, and abusers need to be prosecuted.