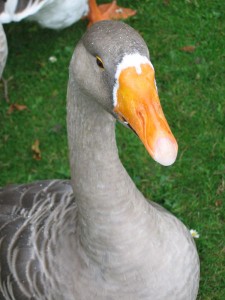 If you're already aware of where  foie gras comes from, feel free to skip the next paragraph.
OK… so for those of you still reading, here's the lowdown: foie gras is actually a diseased (!) liver, about 80% fat. UGH. However, even more repulsive than the idea of eating a diseased organ is the fact that these diseased livers do not happen by accident.  Geese and ducks are force fed, either by a farm worker or by a mechanical device. Necropsy reports of the birds show injuries to the esophagus, from the tubes and funnels used to force feed them; reports also describe many of the dead birds with food still coming out of their throats, which indicates that the birds are dying while in the midst of being force fed. Production of foie gras is a horrible, torturous process that causes the unnecessary suffering of up to 500,000 birds in the United States each year.
The treatment of birds that end up on people's plates in one form or another is outside the realm of any established laws — birds are not covered by the Humane Methods of Slaughter Act. However, The Poultry Products Inspection Act (PPIA) is a federal law that requires the USDA's Food Safety and Inspection Service to inspect the products once the birds have been slaughtered. The emphasis is on human health rather than animal welfare. In 2007, the Humane Society of the United States, Farm Sanctuary, Animal Legal Defense Fund, New York University's chapter of the Student Animal Legal Defense Fund, and three New York residents petitioned the USDA to prohibit the introduction of foie gras into the human food supply. Based on the PPIA , the petition claimed that foie gras, diseased liver, was essentially an "adulterated" food product and therefore in violation of the Act. Unfortunately, two years later, the USDA officially denied the petition for a rulemaking.
For a more in-depth look at foie gras in the United States and what the legal system has to say about it, see Lovenheim v. Iroquois Brands (1985) and Illinois Restaurant Association v. City of Chicago (2007). California passed legislation banning the production and sale of foie gras (goes into effect in July 2012), and other state legislatures are considering similar bans.
While foie gras production is still legal in European countries, Israel banned the production of foie gras back in 2003, and the production of foie gras also is illegal in Argentina.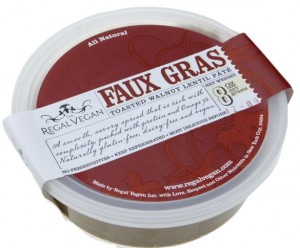 Faux Gras — Cruelty-Free Alternatives!
There are countless vegan pate recipes available on the web, like this Vegan Walnut Mushroom Pate. I've had creative pate dishes at restaurants in cities like New York, San Francisco, and Portland, so it's often easy enough to find truly delicious alternatives even when you're dining out. And for my New York friends, The Regal Vegan makes a Faux Gras that is available in many of your neighborhood stores.
Educating Consumers: Support Labeling of Foie Gras!
Please lend your voice in support of labeling foie gras so that consumers know where it comes from! I sincerely believe that if people knew the truth, they would stop eating foie gras and buying it. Please take a minute to sign this Animal Legal Defense Fund petition to the USDA.